Bitcoin, the internet money founded by Satoshi Nakamoto back in 2009 is rapidly gaining in popularity. The electronic currency (also known as cryptocurrency) attained a further endorsement when in April 2017 Japan announced that they would recognize Bitcoin as legal tender. That single action legitimized Cryptocurrencies around the world, and the popularity and reputation of cryptocurrencies are likely to increase as more countries adopt them. However, there is more to Bitcoin; it is the basis for many technologies favored by business media companies and corporate boardrooms everywhere.
Although these technologies are related to currency and finance, you may be asking yourself, how are we going to make the jump from Bitcoin to Pharma and Biotech and use it in our eForms electronic process logbook? Great question. So, let's make a short list of some of the challenges we face in the regulatory industries as Information Technology professionals:
Data Integrity - The exact data recorded from the shop floor or ERP system at the time of its recording. Provide a trusted data store and a listing of its data.
Data Protection - Ensuring the data collected and to guarantee the business process can never be lost.
Transaction Dates - The recording of quality critical data at the time it happens. Protecting companies and customers from date irregularities.
Auditable Records - Ensuring records and data that both internal and agency auditors need are readable, presentable, and accurate.
Data Recall - Finding and locating data easily.
Data Availability - Making business and manufacturing lot data available to everyone who is authorized and free to access data.
Electronic Records 21 CFR Part 11 - Ensuring authenticity of the person or system writing the data to the company databases.
In the following paragraphs, I will attempt to make the case that the Bitcoin ecosystem can be used as a guide when designing information systems. Designs with increased reliability and quality that store data as part of Master Batch Records (MBR) and the MBR's supporting documentation for pharma, biotech, and other companies in regulated industries.
So let's dig in! When I read Andreas Antonopoulos's book "Mastering Bitcoin" it was like a spark and lead me to everything I know about Bitcoin. The details about Bitcoin that I describe in this essay are at a very high level. If you would like a more precise explanation, I invite you also to read Andreas's book.
We will review four (4) aspects of the Bitcoin system that we can use to help us in the regulatory industries as we look to solve problems in the coming months and years.
1 - Decentralization
Bitcoin is a peer-to-peer (P2P) network of nodes that all contain the same core software and database systems. This statement is important. These nodes are all clones of each other, and as the Bitcoin database grows, all the peer nodes communicate with each other to ensure that the data is the same on all the nodes (this sounds expensive by corporate standards, but we will get to that later). Software, and more importantly the data, all stay in sync over time on all core nodes. This redundancy is the feature that allows the Bitcoin network and system never to go down. This redundancy is what the Bitcoin founder termed as a 'decentralized network.' It is a system that distributed over many locations. So the strength of a Bitcoin ecosystem is it's a 'Virtual Machine' that never has a single point of failure. When a program runs on the Bitcoin 'Virtual Machine' (on the Bitcoin network, people simply refer to the programming language as 'Script'), the code can run on any node. Programs and scripts that always run with no downtime.
2 - Trust
A significant feature of Bitcoin network along with being decentralized is that it provides a guarantee of 'trust' on the network without human intervention or an authoritative third party. The data and transactions are validated and verified by a group of 'miners' within the Bitcoin network. These miners give everyone participating on the network the confirmation that transactions are valid and guarantee. Bitcoins are not 'double spent' and therefore provide the non-central trust authority to the data integrity in the Bitcoin database. It requires no single third party to verify the data. This pool of miners is the ultimate 'check-and-balance' with no single miner having ultimate control. The ability for fraud to occur is near zero.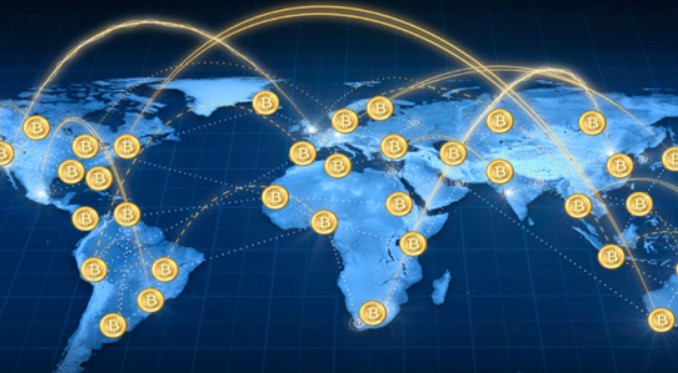 As of this writing, there are over 11,000 Bitcoin nodes all over the world. The chances of any of us waking up tomorrow morning and not being able to use the Bitcoin software is zero. The Bitcoin network is wide and always available.
The software and network are the first half of the Bitcoin ecosystem, while the database, also known as the Blockchain, is the second half.
Continue Reading Part 2
The Internet gave us a network that is available all the time. Bitcoin provides us with a machine and a database that is available all the time. Let's see if we can leverage these technologies into making our companies run paperless and more efficiently. DSI is committed to the concept and is integrating Blockchain into eForms, our paper on glass electronic logbook, forms, and work instruction system.
Continue reading eForms Learning From Bitcoins Blockchain in Pharma & Biotech Part 2 as we continue talking about the Blockchain as well as Private and Public Keys.