Transform Your Plant Operational Data
PI Systems allows for a single data infrastructure that transforms plant operations. Our experts develop and support PI Systems using PI DataLink, Processbook and other PI tools. Let us Develop and Manage your PI System. We have the expertise.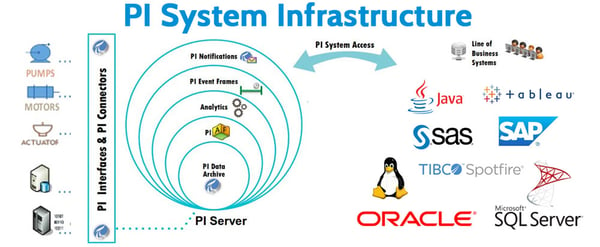 Recently we have been involved in using the PI Connector to Microsoft Azure! If you need your data in the cloud, call us for a consult....
Users of the Open Automation Software - OAS Data Connector - we can get that data to PI for you. No programming required! We have a UDI Connector to PI! Ask us about a demo.....send data to PI without using a PI Interface!
Design, Integration, and Support - We love PI!
DSI has a team OSI PI experts that support OSI PI application development and uses including with SCADA and DCS systems. Listed below are skills we have mastered through years of experience with OSI PI.
At DSI, we participate in the PI Developers club and have access to all the latest PI software. We can configure, test, and provide Proof of Concept (POC) strategies for you next PI Project. We can support remote or spend time onsite.
If you need a new system configured or a current system modified/changed, our engineers can design and setup your system. Configuration, Backup, and restore. We can help you with your complete system and give you peace of mind at a fantastic value.
PI Server and Interfaces
AF node configuration and set-up

Single and High Availability Configuration – Single and Redundant nodes

PI Tag creation for your PLCs, Databases, and OPC Servers

PI Interface configuration – Standalone and redundant

Configuration for both bare metal and Hyper V/ESX

Back filling of currently stored data

Need a custom interface? We do that also......with our C# experience, we can pipe your remote data to your PI Server. Reach out to us for a demo.
PI component
Asset Framework - This is your path to Machine Learning and AI!

PI WebParts

PI SDK

PI AF SDK – need PI data into another system? We can use our Python and .NET skills to get the data where you need.

PI OLEDB
Subject Matter Experts - Systems and Interfaces
OSIsoft, the OSIsoft logo and logotype, PI System and other PI terms are all trademarks of OSIsoft, LLC.