eForms, developed by Deadline Solutions, Inc. is a new type of Web Framework, a - Vertical Web Framework – to enable our customers to realize productivity gains.
What is a Vertical Web Framework (VWF)?
A VWF is a framework that does one thing well – in our case, it allows for the gathering of production and shop-floor data into a database as quickly as possible. It is entirely configurable and flexible, and you don't need a web programmer to configure your forms.
Meet eForms, the electronic process logbook, forms, and work instruction digital ledger system. The first system based on our 'VWF.'
Because our customers tend to be manufacturers, we found a need to provide an IT tool that allows our customers to quickly roll out Web pages that will let them enter information related to their Work Instructions, Standard Operating Procedures, and standard data entry. 'Paper on Glass' (aka Paperless) as fast as possible while still maintaining control.
Electronic Forms, Logbooks, and Work Instructions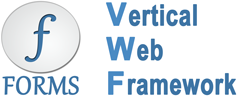 Systems like these are starting to dominate the manufacturing shop floor. Enabling Plant personnel to quickly configure screens and grab information via existing workstations and portable tablets is allowing companies to retire the paper-based data gathering processes rapidly. The company can do all this when it is convenient or necessary without having to engage massive amounts of IT resources. Imagine the day when managers and operation personnel can initiate web-based activities (i.e., work instructions, data gathering, and analysis) without having to be a web programmer. That day is today!
eForms Advantages in the Era of Big Data
Even though paper can be reliable and often convenient for data capture, in the era of 'Big Data' it is an obstacle. It is nearly impossible, but unquestionably a costly endeavor to harvest consistent information from paper or to store it. Using paper forfeits the ability to instantly and easily retrieve data and examine it for patterns. In some cases, this can result in the loss of Quality Critical Information. Storing paper has a risk of damage from disasters and becomes very expensive and requires a lot of square footage over time.
If your company has a paper-based data recording system for manufacturing or quality data, moving to an electronic version will allow for productivity gains in the following three areas – Implementation, Usage, and Archive:
Implementation - Paper on Glass implementation is more cost effective since IT does not have to be involved – Configure your forms or work instructions and roll them out to the production areas
Usage

Easy data gathering and review increases productivity.
Plant personnel can use web browsers and tablets instead of paper and binders.
Review exceptions as opposed to reviewing all recorded data.
Easily search through data.
Reduce your chance of errors. Bring shop floor and plant 'Real-time' data in through OPC or via web service calls. No more manual recording of data.

Archive – All information is electronically archived, thereby eliminating expensive storage and retrieval space
Forms, Logbooks, and Work Instructions are Better in eForms
Examining the list above demonstrates how a company can get cost savings in every area of data gathering. An attractive incentive to move to a system like this.
These are just some of the gains companies can realize by using a tool that allows them to go from one process (paper) to another (electronic) quickly with a streamlined approach.
Gains in Productivity and Reductions in Cost! As System Integrators, we always try to do more for our customer base and industry.