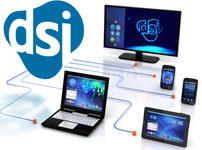 Web Services and Applications
Web Based App Development
DSI Developers create modern and proven Web Applications. We can develop and have your website hosted on Ubuntu or Windows servers on Amazon AWS and Microsoft Azure or on your company intranet hardware.
DSI provides full service System Development Lifecycle (SDLC) Management if required.
You know your business. Let us help you augment it by using advanced IT tools and Web Services. Web. Mobile. Now.
Platforms
Get in the Cloud! Don't stress about hardware and infrastructure. It's 2018….let us get you to peace of mind!

Linux – Windows

Interface to 3rd party applications like Salesforce, Maximo, and SAP.
Web Technologies
Open Source Software – Ubuntu, MySQL, Postgres, MongoDB

Backend Software – Python and C#

Frontend Development – Javascript, AngularJS

RESTful API services – Python Flask, Nodejs Express, .NET C#. We are your back end development experts! Experienced data gateway developers. Robust, secure.

Blockchain Interface for Data storage on your own private Blockchain

Big Data Analytics - Edge Servers – we can get your important data all in one spot.
Web Based Apps
Need Form Entry for SOPs and Logs? - eForms – a web based forms system written by DSI – Allows companies to develop Web forms for logbook and SOP entry with little or no IT help!

OCE – Oral Chemotherapy Education developed by DSI

Parkhere.biz – Virtual Parking Application developed by DSI

And behind our customer's firewalls – dozens of internal web sites for manufacturing and operational efficiency. Product tracking, order tracking, warehouse management